Mexican muralism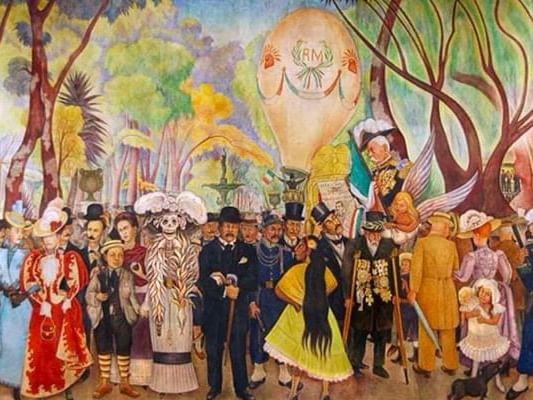 Muralism was the most important aesthetic movement in the Mexican XXth century that broke with the established European values and proposed an introspection of the national soul. It took the color, the form and the content from the indigenous past. However, this movement was inspired by the facts and motivations of the Revolution of 1910.
Through this experience you will discover the most outstanding works of the three great masters of Mexican Muralism: Diego Rivera, David Alfaro Siqueiros and José Clemente Orozco, visiting four preeminent buildings located in the Historic Center of the city:
Former College of San Ildefonso, where the Muralist movement started and you will appreciate works by Rivera and Orozco.
National Palace, where Rivera painted his most famous work: ' The epic of the Mexican people'.
Ministry of Public Education, where Rivera painted all the walls along 3 floors that surround the  main courtyards of the massive building.
Museum of the Fine Arts Palace, where you will admire works by Rivera, Siqueiros, Orozco, among other artists.
​
TUESDAY TO SUNDAY
Approx. duration: 5 hours  |  Departure time: 9 am
* Price based on the number of participants
​
For a quotation/booking please email us
experiences@dominionsuites.com
Or WhatsApp-Text-Call
(+52) 55 2575 2545