Tacos & traditional food
CENTRO HISTÓRICO - COYOACAN - SAN ANGEL - ROMA - CONDESA - POLANCO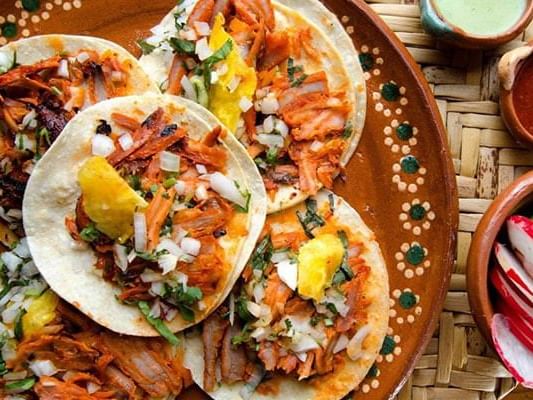 Engage yourself in this exciting activity where it all looks good (or amusingly strange!), smells good, and tastes sooo heavenly! Get off to a hungry start, walk to the rhythm of the locals, and eat like they do!
You will explore the neighborhood of your preference walking through its most picturesque streets, main squares and iconic buildings, as you stop in several unique and popular eateries and foody spots preferred by locals to try various types of typical food, such as tamales, quesadillas, tacos, tortas... you will also visit a classic cantina, a pulquería, a traditional bakery, a traditional sweets shop, among other delicious options.
Or if you prefer, become an expert in Mexican Tacos! visiting only traditional taquerías and street taco stands to taste some of the taco specialties preferred by the residents. In our menu: tacos al pastor, tacos de cabeza and suadero, tacos de canasta, tacos de carnitas, tacos de guisados, tacos de pescado...
                           
* Each experience is carefully designed based in your taste, curiosity and dietary restrictions.

MONDAY TO SUNDAY
Estimated duration: 4 hours  |  Departure time: 9 am
* Price based on the number of participants
​
For a quotation/booking please email us
experiences@dominionsuites.com
Or WhatsApp-Text-Call
(+52) 55 2575 2545